Whatever the nature of your problem of vibration or noise (transmission, internal or external noise vehicle NVH chassis control, road tests, simulation models, benchmarking, fatigue), we can help you to solve it by making available all our experience, and the best technologies investigation and simulation available to the state of the setting of a laboratory equipped and efficient.
Our typical activities are: identification of sources and sound propagation paths, image noise and acoustic holography, operating modes of vibration modal analysis, sound power and sound quality, tests pass-by, noise characterization of materials, testing vibration, data management and reporting.
The laboratories have a complete set of measurement instrumentation, data acquisition, analysis software and software modeling.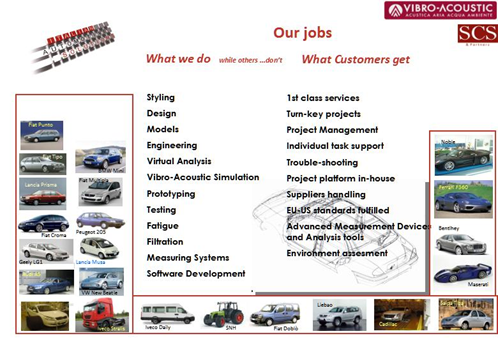 IVECO: Complete development of commercial motor vehicle under the aspect Noise and Vibration (Coll. Ovatex)
FIAT: Testing complete vibroacoustic for the development of vehicles Chroma, Doblò (Coll. Euroacoustic)
Fiat Auto: Collaborations with FIAT Group, FERRARI, CNH problems of noise and vibration on vehicles, diagnostics, solutions, interior noise, external noise, gearbox, psycho-acoustic
Carrying out projects vibroacoustic of vehicles in Iran, Korea, China
Use and validation of methods for evaluation of tire noise on road and methodologies bench with pass-by, CPX, beamforming, acoustic holography
Acoustic design of commercial vehicles (Iveco, IRAN KHODRO)
SEA acoustic modeling (Lear-FIAT, IRAN KHODRO)
Identification of sound sources by means of acoustic holography (Ovatex-Fiat)
Perception of sound in the cockpit of supercars (Ferrari, Lamborghini, Bentley)
Tires and exhaust noise, vibrational comfort (Bridgestone, Ovatex, Lear, Flexider)
Sound quality exhaust systems (Marelli)
Study of the noise pass by (Liebao Changfen)
Studio cabin noise (Zhejiang Geely)
Study on acoustic comfort (Nanjing Fiat Nanya)
Noise leverage changes (Fiat)
Soundproofing external noise tractors – Agritalia
Soundproofing construction equipment – Carraro
Soundproofing cab tractors – SAME
Analysis of crunches inside a car