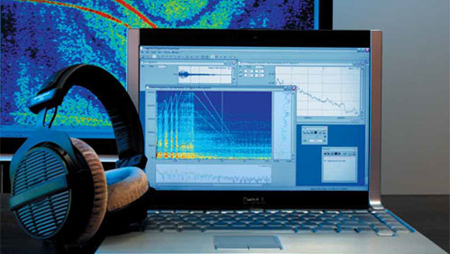 LEA: the Sound Lab for the Industry
The signal analysis, sound design and psychoacoustics software package for acousticians. 
Boost your sound design with a time-frequency sculpting tool. LEA's graphic representations provide you with simple but powerful tools for altering sound characteristics with just a click.
A full suite of analysis tools…LEA is built with ground-breaking algorithms developed in partnership with the CNRS (French National Centre for Scientific Research). It is the leading tool for analysis of physical sound characteristics.
… focusing on auditory perception. With LEA, play back the sound you are working on in 3D, at any stage in the process, and calculate its psychoacoustic parameters.
The gate to unique applications. LEA gives access to 2 major automobile oriented software packages:
ASD Designer: to design engine sound and generate additional sound using the audio system of the vehicle
geneCARS: interactive sound simulator for Driving Simulators, for human factor studies as well as NVH purposes
Download:

Technical Papers and Projects
geneCARS  real-time audio synthesis

SNCF simulator – Soundscape Design ODAS
Audio simulator SHERPA – PSA

​Helicopter sound environment simulator
Objectivisation of car suspensions rattle noise
Dynamic Simulator CARDS2 – Renault
Dynamic Simulator  ULTIMATE – Renault
GENESIS' Brochure

LEA Software

geneCARS Sound Simulator

geneVR, 3D audio sofwtare for virtual reality applications

Find us !

Brochure of Yokohama Institute of Acoustics, Inc., GENESIS partner in Japan


Registered Access 

geneCOPTER, 3D audio for helicopter simulators
» geneCOPTER Product Documentation
Case studies and references
» Audio simulator SHERPA » Soundscape design tool for SNCF simulator » Helicopter sound environment simulator
Papers
» ICAD 2007 : Spatial Audio Quality Evaluation – Comparing Transaural, Ambisonics And Stereo
LEA Case studies
» Noise source identification
Papers
» ICAD 2007 : Spatial Audio Quality Evaluation – Comparing Transaural, Ambisonics And Stereo
LEA Case studies
» Noise source identification
» ACOUSTICS'08 : A Model For Predicting Rattle Noise Subjective Rating – in partnership with RENAULT » DSC 2009 : High Fidelity Sound Rendering For Car Simulators » Automobile Comfort Conference Le Mans 2008 – Transaural Audio Systems For Psychoacoustics Tests In The Car Industry » Automobile Comfort Conference Le Mans 2006 – Loudspeaker Simulation of Sound Environnements For The Car Industry » French Congress of Acoustics 2010 – Audio Component Impulsive Noise Audibility Indicator » Internoise 2012 – Process for Car Engine Sound Design
Scientific Partners
LMA-CNRS: Laboratoire de Mécanique et d'Acoustique du CNRS – Marsiglia – (http://www.lma.cnrs-mrs.fr)
LATP-CNRS: Laboratoire d'Analyse, Topologie, Probabilités du CNRS – Marsiglia (http://www.latp.univ-mrs.fr)
IRCAM: Institut de Recherche et Coordination Acoustique, Musique – Parigi – (http://www.ircam.fr/)
LABS ORANGE (ex France Télécom R & S) – Lannion – (http://www.francetelecom.com/)