3D Sound playback Systems
Acoustics, Noise, Sound, Music .​
The GENESIS team has developed expertise and solutions that can be used in your playback studios for a realistic reproduction of real-life soundscapes.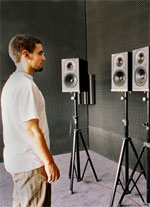 High-precision reproduction
GENESIS uses state-of-the-art 3D recording and playback techniques for high-precision reproduction of immersion, 3-dimensional sound and original timbre.
 Turnkey services
GENESIS can provide start-to-finish services – analysing your requirements, designing the solution, supplying and integrating hardware and software, calibrating the installation, training your teams and maintaining the solution.

Technical Papers and Projects
geneCARS  real-time audio synthesis

SNCF simulator – Soundscape Design ODAS
Audio simulator SHERPA – PSA

​Helicopter sound environment simulator
Objectivisation of car suspensions rattle noise
Dynamic Simulator CARDS2 – Renault
Dynamic Simulator  ULTIMATE – Renault
GENESIS' Brochure

LEA Software

geneCARS Sound Simulator

geneVR, 3D audio sofwtare for virtual reality applications

Find us !

Brochure of Yokohama Institute of Acoustics, Inc., GENESIS partner in Japan


Registered Access 

geneCOPTER, 3D audio for helicopter simulators
» geneCOPTER Product Documentation
Case studies and references
» Audio simulator SHERPA » Soundscape design tool for SNCF simulator » Helicopter sound environment simulator
Papers
» ICAD 2007 : Spatial Audio Quality Evaluation – Comparing Transaural, Ambisonics And Stereo
LEA Case studies
» Noise source identification
Papers
» ICAD 2007 : Spatial Audio Quality Evaluation – Comparing Transaural, Ambisonics And Stereo
LEA Case studies
» Noise source identification
» ACOUSTICS'08 : A Model For Predicting Rattle Noise Subjective Rating – in partnership with RENAULT » DSC 2009 : High Fidelity Sound Rendering For Car Simulators » Automobile Comfort Conference Le Mans 2008 – Transaural Audio Systems For Psychoacoustics Tests In The Car Industry » Automobile Comfort Conference Le Mans 2006 – Loudspeaker Simulation of Sound Environnements For The Car Industry » French Congress of Acoustics 2010 – Audio Component Impulsive Noise Audibility Indicator » Internoise 2012 – Process for Car Engine Sound Design
Scientific Partners
LMA-CNRS: Laboratoire de Mécanique et d'Acoustique du CNRS – Marsiglia – (http://www.lma.cnrs-mrs.fr)
LATP-CNRS: Laboratoire d'Analyse, Topologie, Probabilités du CNRS – Marsiglia (http://www.latp.univ-mrs.fr)
IRCAM: Institut de Recherche et Coordination Acoustique, Musique – Parigi – (http://www.ircam.fr/)
LABS ORANGE (ex France Télécom R & S) – Lannion – (http://www.francetelecom.com/)