This system consists of a spherical transducer equipped with 31 microphones and 12 cameras, and allows you to get, as a result of a rapid and simple acquisition, the noise map in any direction with respect to ball-transducer. The representation of noise maps can be both static form for the analysis of phenomena stationary, both in form 'animated' for the analysis of the phenomena of non-stationary or moving source.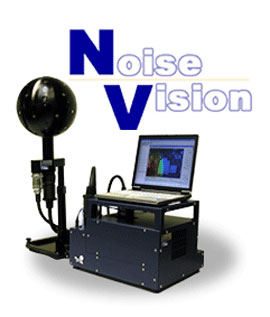 Among the applications NoiseVision outstanding
Research generic sources
Study dynamic noise emitted from a source
Analysis advanced noise inside the car
Identification of sources within the workplace
Classification of acoustic insulation systems
Specifications
Microphones: 32 ICP
Front-End noise: TEAC LX-20
Front-End Video: Nittobo
Operating Frequency Range: 200Hz ~ 5.000 Hz
Option dynamic analysis
Option automated analysis report in ppt format
12V Power Option
Components of the system
Spherical transducer (Ø 260mm, weight 12 kg)
Units acquisition mic to 32 + channels tacho
Units acquisition cameras
Notebook c / software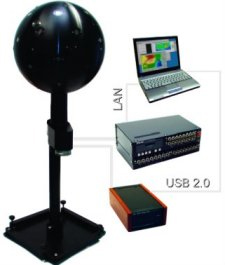 The new concept: "omni-directional" sound analysis
The fundamental of the noise and vibration improvement is the "sound radiation control". To control the sound radiation, we have to know the "control point", i.e. we have to know the most important sound source to contribute to the evaluation point. This process is called "analysis of sound sources". Noise Vision is a new system with a concept to identify the sound sources efficiently.
What is the most serious problem in the conventional sound source analysis system? We think that it lies in the keyword "DIRECTION". Noise Vision is a new system that can analyze the sound sources located at any direction. 

The sensor of the Noise Vision is a sphere-shaped. It is quite unique as the sound-measuring instrument. On the surface of the sphere, the thirty one microphones are arranged. It is specially designed for the purpose to analyze the sound sources over whole direction with only once data acquisition.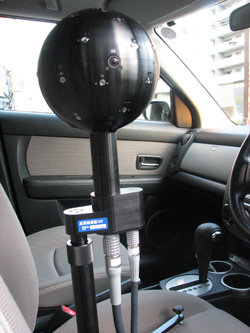 The Goal: "Visualization of sound"
What is required for the future measuring instruments? We think one of the most important matters is "VISUALIZATION". The sound is invisible. But we know it turns to be more intelligible and persuasive by expressing sound in visual form. 

Noise Vision brushed up the technology of the visualization thoroughly. Twelve cameras are set on the surface of the sphere-shaped sensor. The sound source information is displayed over the photograph taken with the camera. So, you can recognize the cause of noise problem out clearly.
What is the value for the product development or service offering?
We think one of the most important matters is "SPEED". Actually for noise control operation, to get the result for a shorter period is required.
Noise Vision has been improved thoroughly each work processes, such as "setup of the system", "measurement", and "analysis and reporting", and has succeeded in large time shortening in each processes. It is apparent if you experience the Noise Vision. Noise Vision analyzes and visualizes the information of the sound sources rapidly. It frees the engineers from complicated measurement operations.

We have been helping various customers' acoustic measurement and simulation system development. Moreover, the acoustic consulting service reached more than three hundred cases in a year. We promise the reliable support after system installation. 
And we are also proposing acoustic measurement / consulting service using Noise Vision for various cases. In many cases, sound source analysis is carried out as troubleshooting. We offer the services with power and rapidness.

Sensor (sphere-baffled microphone array with cameras)
Standard sensor
Medium sensor
Small sensor
Noise Vision Front-End

W338 x D275 x H855 (mm) (max.)

W300 x D240 x H840 (mm) (max.)

W228 x D200 x H822 (mm) (max.)

W400 x D330 x H265 (mm)

W338 x D275 x H680 (mm) (min.)

W300 x D240 x H640 (mm) (min.)

W228 x D200 x H610 (mm) (min.)

Built in AD converter

Diameter of the sphere : 260mm

Diameter of the sphere : 200mm

Diameter of the sphere : 165mm

Built in Camera Switching Unit

Weight : 7.8kg

Weight : 4.0kg

Weight : 3.6kg

Power input : AC/DC

Number of microphones : 31

Number of microphones : 31

Number of microphones : 31

 

Number of cameras: 12

Number of cameras: 12

Number of cameras: 12

 

Number of cameras: 12z

Application frequency from 260Hz to 6500Hz

Application frequency from 315Hz to 8000Hz

 
| Host PC | Data Acquisition |
| --- | --- |
| OS: Windows2000, Windows XP | Multi-channel sound acquisition function*3 |
| CPU: Intel Pentium 4 2.5GHz or higher | Input level monitoring function |
| Memory: 512 or higher (1GB or more is recommended) | Auto range function |
| HDD: 2GB or more | Photo capture function |
| Display resolution: 1024 x 768 (XGA) pixel or higher | Movie capture function |
| USB2.0 port (two or more) | Tacho-signal acquisition function (2ch) |
| ETHERNET (RJ-45) port (100BASE-TX or more) or PCMCIA/PCI slot (one or more)*2 | Trigger function (input level trigger, external trigger) |
| | Input filter function (F, A, C) |
| | Frequency analysis (FFT) function |
| | Sound data playback function*4 |
| | Sound data export function |
| | Photo data export function |
Data Analysis
Options

Sound source analysis function (Method: original method based on Beam-Forming )

Frequency range*5: 200Hz – 5000Hz (standard sensor) 260Hz – 6500Hz (middle sensor) 315Hz – 8000Hz (small sensor)

Narrow band analysis

1/1, 1/3 octave band analysis

Overall analysis

Software for calculating the difference of analyzed data *8 Batch calculation*9 and creating animation*10 Automatic creation of report (Microsoft Powerpoint file)*11 Realtime analysis*12
Analysis result exporting function*6
Analysis result copy function*7
*3: Possible recording time depends on the capacity of the harddrive of the host PC.
*4: A sound device is required on the host PC.
*5: Depends on the sensor to be used.
*6: Function to output the analyzed result as the Windows bitmap or the JPEG format.
*7: Function to copy the analysed result onto the clipboard.
*8: Function for visualizing the difference between several cases.
*9: Function to perform the analysis automatically under a pre-set calculation condition.
*10: Function to create the animation for the analyzed result.
*11: Function to create the PPT report automatically.
*12: Function for real-time sound source analysis and display.