EXPOSURE TO NOISE AND VIBRATIONS AT WORKPLACE
Noise reduction program example.
GETRAG: Study the feasibility of forecasting and optimization of noise reduction automobile gearbox production plant changes, acoustic modeling and simulation work
Workshop division in subarea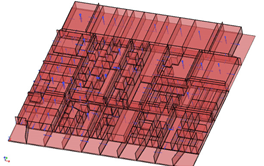 ​
Workskop Noise level distribution in the original situation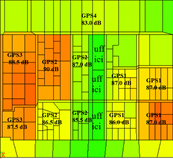 Workshop Noise level distribution after simulated Noise Control design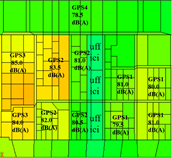 GETRAG – Bari – Noise exposure reduction program in the main workshop

(gearbox production). SEA simulation technique with subdivision of the total area in sub-area in which the measured Lp were taken as energy level. Subsequent noise reduction simulation using false-ceilings, baffles, screens, layout changes.
GE-Lighting: Check the noise exposure of workers and workout a suitable project of noise exposure reduction in the total area of the workplace

ATAC Roma – Study induced vibrations on the drivers of the means of transport